About Us
Established in 2010, PE Planning is used by thousands of teachers in hundreds of schools.
We are an experienced team of PE Specialists whose sole job is to create and deliver high quality PE lessons. We do not accept a plan that isn't engaging, active and fun! Every new plan created gets a thorough MCA & MSL check… MCA: Maximum Class Activity, MSL: Maximum Student Learning.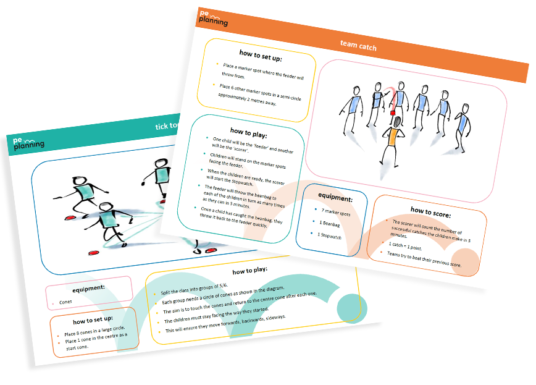 Our activities may be fun, but we are serious about Physical Education. Our highly qualified staff ensure our resources are current and appropriate for all school students.
The end user is always at the forefront of our minds. That is why all our lessons have the option of fully detailed plans for less confident leaders, or quick reference plans for the experienced Coach.
up to date and constantly evolving
We constantly explore ways to improve the service we provide, adding new sports and updating activities are a part of everyday life for us.
Our team delivers weekly PE to over 50 Schools. We create plans, test them by delivering to our students, modify them, then upload them to the website for coaches to use.
View our staffroom
1. our lesson plans work with every type of curriculum
2. Ever increasing lessons & resources
3. Quick & easy to download
4. Experienced PE specialists
5. engaging active and fun resources
6. always here to help
Testimonials
Plans are easy to follow with brilliant child-friendly images. I love the range of sports available which means you can really personalise your own PE curriculum to meet the needs of all your children. Progression within the curriculum is clear and well-structured. I would quite happily walk into an inspection knowing that plans, lessons, learning and impact on the children is well-structured, clear, personal, written and delivered to create sportspeople of the future where children develop a life-long love of sports, fitness and healthy lifestyles. Thanks PE Planning!
The planning and assessment documents are brilliant. Simple and hugely time saving for teachers.
An invaluable tool for School Sports Coaches. So many sports for all. This resource does all the planning work so my Coaches can focus on high quality PE delivery… perfect!
The resources cover all the Curriculum for Excellence topics. What is especially notable is that skills are based on the age of the child so badminton in P7 is the culmination of skills developed in P1-P6. The planning is superb. I have joined this website as it is the most holistic planning I have found. 
Each teacher has their own log in and detailed progressive lesson plans whilst also being able to access whole school resources and lessons. Lesson plans are so easy to use with illustrations for demonstration meaning I find it even more simple to follow!! The whole school curriculum map is broad, balanced and coverage is superb allowing time for exploration and collaboration. There is an extensive range of sports and skills development opportunities for all age groups.  I love the easy to navigate website and there is always a rapid response from the support team should you need it.  Knowing that every teacher in our school is using PEPLANNING is peace of mind that we are delivering a consistent, enriched and progressive PE curriculum.
The planning is straight forward and no further information is needed if my lesson is being covered my someone else. I can simply hand over the provided plans and be on my way! The range of activities are excellent and the children are never bored due to the fun warm ups and games.
I am really impressed by the huge variety of lesson plans, covering everything I need. Both the website and the planning resources are so easy to use and really high quality, clearly explaining resources needed and step by step instructions. The diagrams in the plans are so useful!
I like how the sports are split up. The layout is uncluttered and seems to follow a logical thought process. The plans are visually laid out well and easy to follow even for those of us who lack confidence when teaching PE. The step by step instructions are clear.
Clear progression, revisited skills, vocabulary etc are all evident. Plus, the actual layout of warm ups, main teaching, cool downs - is all there in one place. The range of sports is excellent too - a much wider range than we've ever had previously. This is allowing us to confidently offer a broader selection and build our children's skills and enjoyment.
I find the range of activities good and there is some good progression. This allows me to assess progress easily. 
The website is really easy to navigate, love the planning and the choice of quick view or detailed. 
The website is really easy to use. ​The range of sports is excellent and covers most of the sports covered in my school.  The plans are easy to follow. If I am not teaching the lesson, the cover teacher has a clear idea of warm-ups, key skills, and main game play.
I love using the planning! This is my second year using them but first year with mixed class. The plans are so easy to differentiate. I have also used them for after school club.
Easy to follow with very clear instructions and details of the equipment required at a glance. We are small rural school with mixed classes and we love the fact we can choose the level of lesson. A huge choice to enable us to offer skills development throughout their time at school. We asked our students this afternoon what they thought of the first Fitness lesson - it was a thumbs up all round !
Save time and money by subscribing
Quick easy engaging PE lesson plans in a huge range of sports, ready to download and deliver from only $25 per month
View subscriptions
faqs
Can I have a free trial / sample plans?
Of course! Just hit the 'pricing' tab above and you will see an option for 'free membership'. Free members can download the first lesson of every Unit, as well as other additional resources.
Why is there a limit of lesson plans I can download?
This is to protect our products from abuse. Most members have a limit of 200 downloads per month, which equates to 50 PE lessons per week. Also, we recommend not downloading plans too far in advance to ensure your lessons are fully up to date.
Can I cancel my monthly payments?
Only after your minimum commitment of 12 months. You can then cancel your subscription without notice.
My school has more than 3 Coaches!
Please use the 'contact us' tab to let us know how many Coaches you have. We will then send a quotation for your school membership.
How do I add or remove users onto my school account?
If you have a school account with multiple users, please use the 'contact us' tab to send us names and email addresses of the staff requiring an account.
No verification email received.
School servers can block some external emails. If you do not receive a verification email, please ask your IT Manager to add pe-planning.org as a safe sender, and contact us to verify your account.
Why do I only have access to the first lesson?
If you can only see the first lesson, it is likely you are only a 'free member'. If you think you should have a higher membership, please use the 'contact us' tab and send us a message.
What's the difference between full plans and quick plans?
These are 2 versions of the same lesson plan. Full plans contain lots of information and advice. Quick plans are a summary of the lesson.
Can I have Word versions of the resources?
Most resources are not in Microsoft Word format. But we can send you Word versions of certain paperwork such as assessments and reports. Please contact us to enquire.
Our website is fully automated. The subscription you pay for unlocks different resources in the site which makes it impossible to offer a discount. But have you seen our prices?... amazing value!